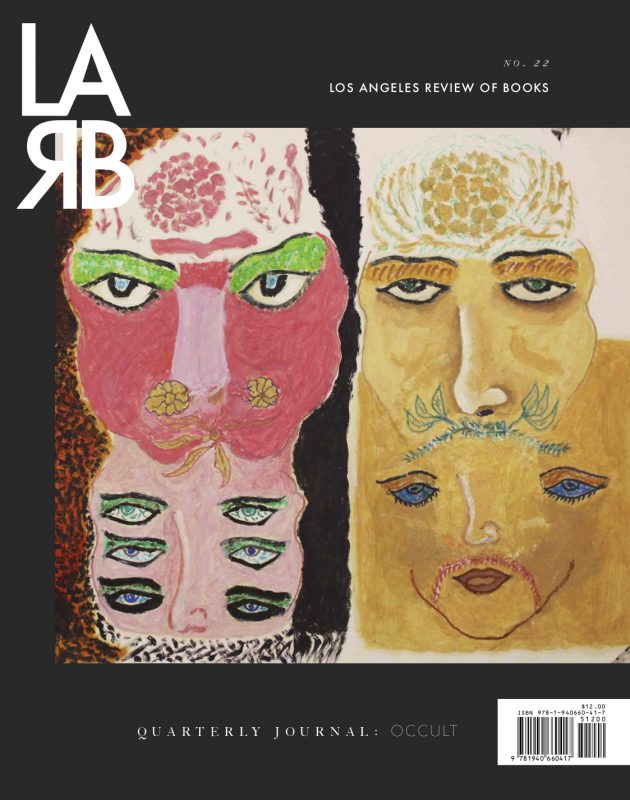 The occult, or what is categorized as the occult, can be a tool to reexamine what is real. It's a fun house mirror — disordered and unusual, and yet, still somehow accurate.
ESSAYS: Colin Dickey, Anna Journey, Anna Merlan, Sarah Moss, Emily Ogden, Adam Morris
FICTION: Kathryn Davis, Masande Ntshanga, Keziah Weir, Paul LaFarge
POETRY: William Brewer, Elisabeth Houston, Brenda Hillman, Matt Morton, Javier Zamora, Vanessa Angélica Villarreal
ALSO FEATURING: Kristen Arnett, Dodie Bellamy, Fernando A. Flores, Maya Gurantz, Zoe Tuck, Aaron Winslow
About the Book
ESSAYS
READ ON LARB
THE SUBURBAN UNCANNY by Colin Dickey
READ ON LARB
THE DESPERATE SEARCH FOR THE MARK OF THE BEAST by Anna Merlan
READ ON LARB
CANNIBAL by Anna Journey
UP IN THE AIR: CHARLES DURANT AND THE CLAIRVOYANTS by Emily Ogden
THE LINDOW MAN by Sarah Moss
CELERY JUICE & SKINNED FROGS: A BRIEF HISTORY OF MEDICAL MEDIUMS by Adam Morris
¤
FICTION
THE HOUSE IN THE HAGUE by Kathryn Davis
THE SLEEPING ILLNESS by Masande Ntshanga
READ ON LARB
THE RETREAT by Keziah Weir
READ ON LARB
ALL INCLUDED by Paul La Farge
¤
POETRY
THE MEAL by Elisabeth Houston
READ ON LARB
CONCERNING THE MEANING MOLECULE IN POETRY by Brenda Hillman
TWO POEMS by William Brewer
FROM WEST TEXAS by Matt Morton
READ ON LARB
TWO POEMS by Javier Zamora
A PALACE OF WAITING ROOMS: LEGEND by Vanessa Angélica Villarreal
¤
HYBRID
FICTIVE MATRIARCHIES by Maya Gurantz
¤
SHORTS
READ ON LARB
POSSUMS TELL ALL by Fernando A. Flores
READ ON LARB
MOTHER OF CUPS by Zoe Tuck
FEAR OF GOD by Kristen Arnett
GODDAMN WEREWOLVES by Aaron Winslow
THE GHOSTS WE LIVE WITH by Dodie Bellamy
Other Books in "LARB Quarterly Journal"
Disclosure of Material Connection: Some of the links in the page above are "affiliate links." This means if you click on the link and purchase my book(s), I will receive an affiliate commission. If you are familiar with the royalty system, you know that this helps make writing books profitable. I am disclosing this in accordance with the Federal Trade Commission's
16 CFR, Part 255
: "Guides Concerning the Use of Endorsements and Testimonials in Advertising."